Sometimes, it is nice to treat yourself to some new dental products, either out of necessity or just for fun! Maybe you've moved and need to restock your bathroom supply, or you are really amping yourself up to improve your dental hygiene habits. Take a look at some of the nice products that you might like to pick up next time you are in the dental aisle!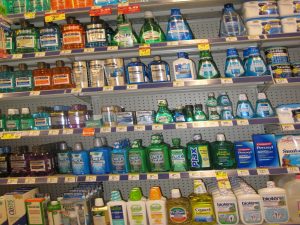 Nice, new toothbrush – an ADA approved toothbrush in a fun color is our pick. Make sure the bristles are soft!

Fresh new minty mouthwash – fluoridated and ADA approved!

Listerine ® Ultraclean ® Access ® flosser – this has a nice long handle and replaceable flosser heads, making it easy to floss daily!
Crest Whitestrips – a great at-home, ADA approved option for whitening your teeth!

Splurge: a nice electric toothbrush!
Product: Electric Toothbrush
An electric toothbrush is a wonderful dental tool to splurge on. They help patients to be more effective and efficient in their brushing. If you are thinking of getting one, we recommend Oral-B ® or Philips Sonicare – and we carry both for sale in our office!
Is it time for your next dental visit? Call our office now to schedule an appointment!